Come to the Bluemont Junction Trail to view three 8-foot murals depicting snowy scenes for a very Insta-worthy experience.

Enjoy a fun, safe, interactive activity as you stroll in nature and post your selfie using hashtag #artofsnowflakes. Snowflakes are like Arlingtonians; both beautiful and unique, but united as a whole. Like us, no two are alike.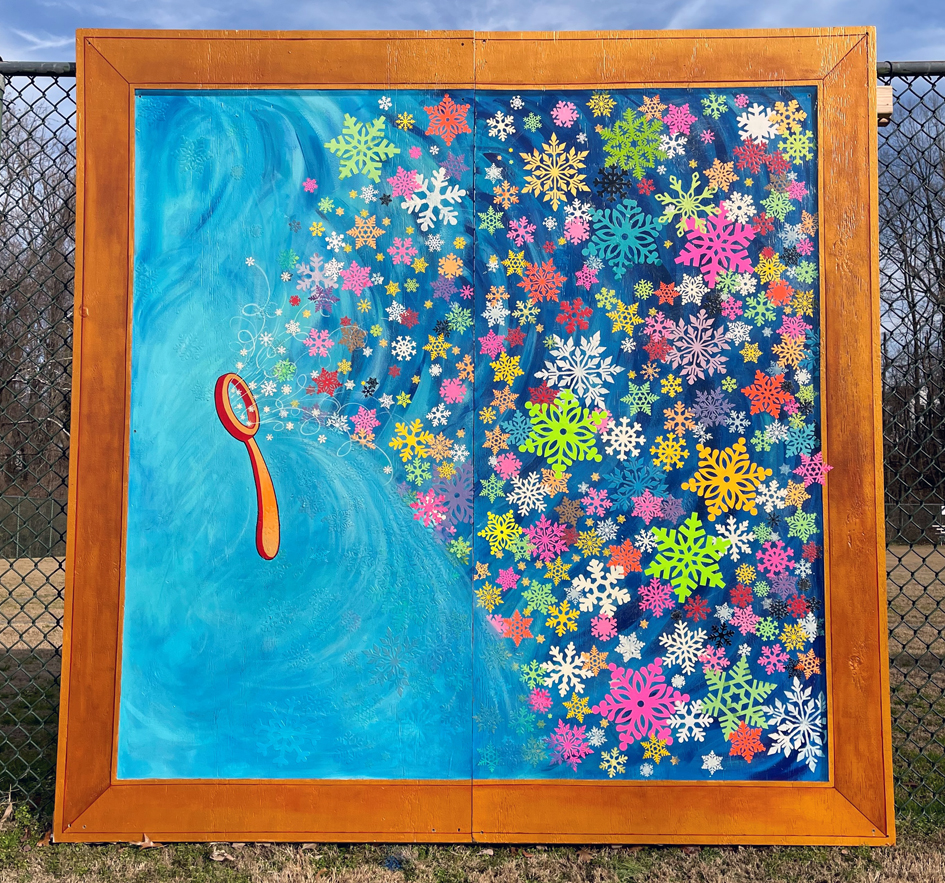 Inspired by the joy of children blowing bubbles, as is often seen in our Recreation programs.  In our version, a multitude of colorful snowflakes are fluttering across the painting.  We invite you to step up and pose as if you are "holding" the wand and creating the snowflakes.
Inspired by artist Vincent Van Gogh's iconic "Starry Night" painting, this shows the dark sky filled with falling and dancing snowflakes over a tiny cabin.  Can you "catch" one on your tongue?
Inspired by artist Kehinde Wiley who painted "Portrait of Barack Hussein Obama" in 2018 and hangs in the National Portrait Gallery. Wiley is known for his patterned collage backgrounds in his large portraits.  Stand next to the snowman and be surrounded by a pattern of bright modern snowflakes!
Dates: Mon., Dec. 21 through Mon., Jan. 25

Location: Bluemont Park, 601 N. Manchester St. The murals are located along the fence at trail mile 8. View map.

Getting There: Park at the lot at 601 N. Manchester St. Look for directional signs in the parking lot and along the trail.
Share with Us: Use #artofsnowflakes on Instagram to be featured below.